Understanding AI's Role in Sustainability
Artificial Intelligence (AI) has evolved from a science-fiction concept to a transformative technology in our daily lives. Over the past decade, it has profoundly impacted multiple sectors, from healthcare to finance. One such area where AI's footprint is growing is sustainability. By utilizing predictive analytics, advanced algorithms, and machine learning, AI is revolutionizing our approach to environmental conservation. This article aims to explore this intersection of AI and sustainability, underlining the potential of this synergy to bring forth a green revolution.
AI's Contributions to Energy Conservation
One of the fundamental ways AI contributes to sustainability is through energy conservation. Traditionally, energy use in buildings and factories has been a significant environmental concern, contributing to global CO2 emissions. However, the beginning of AI has opened up new possibilities for optimizing energy use, reducing waste, and significantly improving energy efficiency.
AI-powered systems, backed by machine learning and advanced algorithms, can predict and adjust to energy usage patterns. This capability allows these systems to control energy output, subsequently minimizing wastage. For instance, AI can predict peak and off-peak hours in a factory, adjust energy output accordingly, and result in substantial energy savings.
Furthermore, AI can play a crucial role in enhancing the efficiency of renewable energy sources. By predicting weather patterns, AI can maximize solar and wind energy generation, boosting our transition towards cleaner and more sustainable energy solutions.
Waste Management – AI and Sustainability
Another area where AI has shown great promise is waste management. Globally, waste management has posed significant challenges, both logistical and environmental. Traditional waste management systems could be more efficient, leading to undue ecological strain.
Here, AI comes into play by making waste management more efficient and less resource-intensive. Advanced algorithms can optimize waste collection routes, significantly reducing fuel consumption and emissions. Additionally, machine learning can enhance sorting and segregation processes at waste treatment facilities. This improvement allows for more effective recycling, reducing the amount of waste ending up in landfills and promoting a circular economy.
Sustainable Farming and AI
Agriculture is one area that stands to gain immensely from the application of AI. Sustainable farming practices, essential for ensuring food security and combating climate change, can leverage AI for various purposes.
Powered by AI, precision farming allows farmers to use water, fertilizers, and pesticides more efficiently. This efficiency can reduce waste, lower environmental impact, and improve crop yields. AI can also predict weather patterns and potential pest invasions, helping farmers plan their activities accordingly and significantly reducing the risk of crop failure.
Predicting Environmental Trends with AI
AI also has a significant role in helping us understand and combat climate change. It can process vast amounts of data to accurately predict environmental trends and potential climate change scenarios. This capability can prove invaluable for policymakers, environmentalists, and businesses, giving them the insights to make informed decisions and develop mitigation strategies.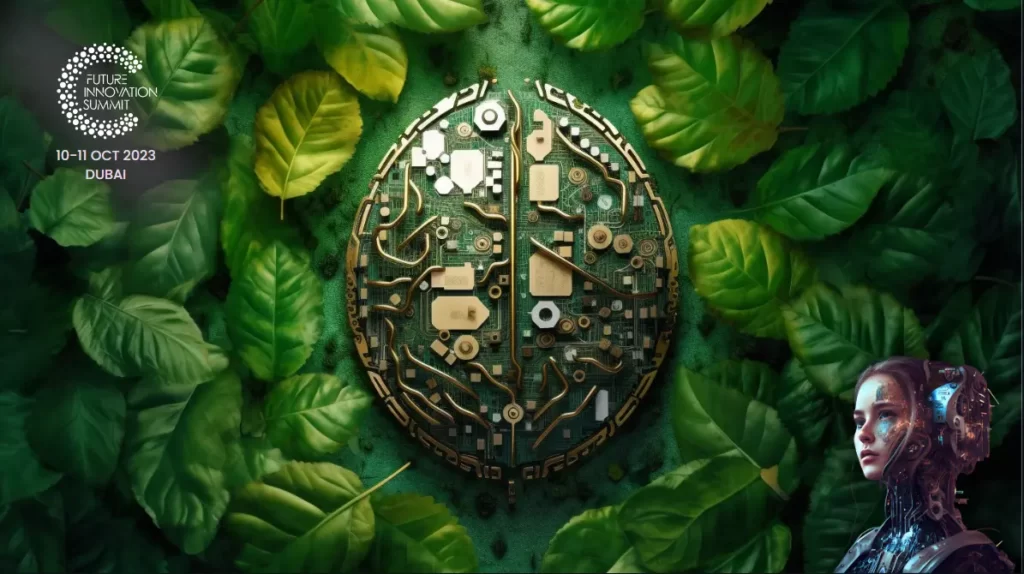 Conclusion: AI and Sustainability
The convergence of AI and sustainability signals a green revolution that could help us address some of the most pressing environmental issues of our time. With its potential to make our societies more sustainable and energy-efficient, AI is shaping to be a vital tool in our quest for a greener, healthier future. As we move further into the 21st century, the fusion of technology and sustainability will play an increasingly central role in our lives.